Name: Guila
Age: 18
Birthday: June 1
Gender: Female
Appearance: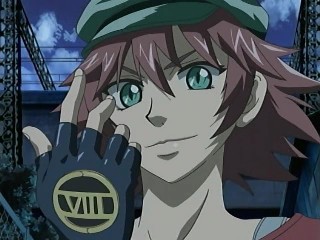 Guila with her glove with an eight on it so she never forgets where she comes from
Personality: Guila is very dedicated to almost everything she does if she sets out to do something she does not stop until it's done. Guila can't stand still while others suffer or are treated poorly since she still remembers how she felt when she was captured. Guila is generally friendly but takes a lot before she really opens itself to another human and it can make her seem cold and harsh sometimes. Guila Fanalis blood gives her a wild and bestial side which only appears when she fights without holding back with the intention to kill everything in her path, a side Guila fears one day will run amok and kill an innocent.
History: Guila was born as part of an experiment in the Kou Empire in order to create superior soldiers and what better place to start than with the Fanalis who have physical strength and senses above that of a normal human. Guila's mother was a pure blood Fanalis who had been captured by the Kou Empire and who were forced to have Guila with a powerful Magician. Guila's parents was chosen to give Guila the best chance of inheriting the best from both parents a make the experiment more successful. When Guila was five began the hell that was her life. Everyday she would be led down to the lab where several drugs was injected into her body and she got covered in magical symbols in order to monitor and amplify all her abilities and not one thing came without great deal of pain to the young girl, after alle that she would be brought down into a space where she would be exposed to tests no human being should have to go through and when Guila dropped down at the edge of death would the tests stop. Guila would be taken back to her cell where the only good thing in her life was waiting for her, an old man who was the Magician healed and took care of Guila so she would not die after the tests, she was after all valuable test subject number eight. At the age of fourteen was Guila given a special "gift" a tattoo of a magic circle which covered her entire back followed by a ritual which took several days where Guila floated between being unconscious and in great pain. After the ritual continued the tests which had only been more inhumane as she had become older, by this time there was no light left in Guila's red eyes and her heart was as dark as the darkest night. When she was sixteen Guila was asked a strange question by the old Magician who took care of her "Girl what do you want most?" it was the first time someone had spoken to Guila her whole life and it was like with that sole question that Guila woke up from the nightmare she had been ind for the last sixteen years and with a voice she had only used to scream in pain with she answer the old man's question "I want to be free" And with those words smiled the old man to the young girl "Good you are still alive in there" He put his hand over Guila's eyes and a light was shining into Guila's eyes from his hand "Take it as my farewell present my girl" As soon as he had said those words he stood up and took a stave Guila never had seen him with before. The old man were surrounded by shining butterflies when he touched the stave he looked back at Guila and said something she still can not remember for some reason after that everything went black for Guila and the next she remembers is to stand on a road far away from the Kou Empire and looking into a small lake where her red eyes should have looked back at her but her red eyes was now hidden behind a pair of magical green eyes the farewell present from the old man so it was not obvious she was of Fanalis blood. Guila now travels the world in the search after all information about them which held her captured and perhaps find the old man and help him as he helped her.
Country: Kou
Race: Fanalis
Strengths: Through all the tests Guila have survived she have become a formidable fighter and survivor. When it comes to hand to hand combat is only skilled warriors a match for the wild and powerful young Fanalis. Guila is faster than most and her kick have been strong enough to shatter a full plate armor and send the user into the air. Her instincts makes her blows deadly accurate since she knows when to strike and when to back off. Her powerful attacks only gets more dangerous by the strong body Guila have after having been subjected to great pain everyday her whole life her pain threshold is very high and it will take much to take her out to the point where she can not fight on.
Weakness: Guila have no defense or knowledge against magic only her physical strength. Guila only know how to fight with bare hands so against a skilled weapons user she has no way to block an edged weapon than with her body. Sometimes when Guila close her eyes she can see small glimpses of the day she escaped and this causes her great pain since something will not let her remember what happened that day.
Weapon: None
Do you have any magic training?: No
If yes what type of magic?: None