Name:Kouen Ren
Age: 29
Birthday:June 10th
Gender:Male
Appearance: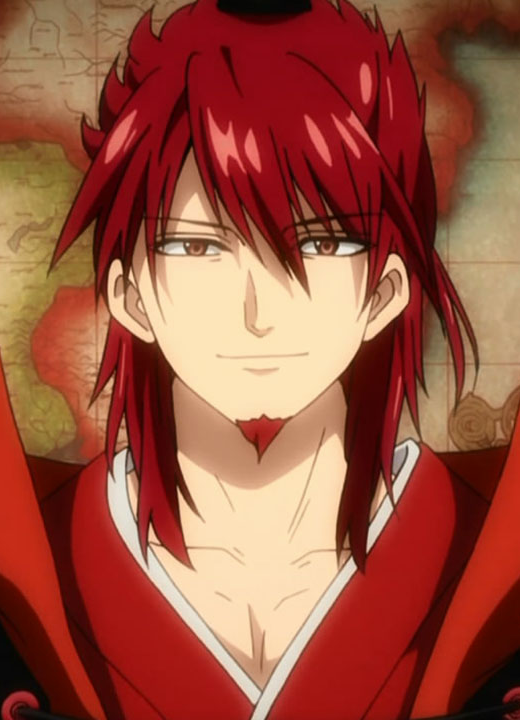 Personality:Kouen seems to be a calm and serious person, but he also likes wars and wants to increase the power and territory of the 
Kou Empire
. Kouen has a desire to become the only king in the world. He wants his siblings to help him but doesn't wish to force them if they aren't willing to.
In contrast to his tyrannical public image, Kouen also possess an intellectual side in reading documents and learning about history.According to his brother 
Kouha
, even if he always thinks about the country, in private he's a person greedy for knowledge. He doesn't mind hurting himself if it's for the sake of his goals.
He also wants to solve the riddle of the 
Torran Language
 and the 
King Vessel
 and how they are linked to the past. To do so, he is willing to side even with a complete stranger, for as long as he is certain that the person in question will give him the answers he seeks.
History:Kouen is the eldest son of the 
first Emperor
's younger brother, 
Koutoku Ren
; he and his brother 
Koumei
 have the same mother. He became interested in history and war at an early age, often studying history scrolls and observing wars.
After the death of the first Emperor and his heirs in a fire, Kouen's father became the second Emperor, making him the first Prince.Kouen conquered both the 2nd and 29th 
Dungeons
 when he was 16, obtaining his first and second 
Djinns
, 
Agares
 and 
Astaroth
. At that time, he fought with Emperor Hakutoku together with Hakuyuu and Hakuren in unifying the Eastern Plains,
When he was 22, he conquered the 37th Dungeon and obtained his third Djinn, 
Phenex
, and started his own war campaign.
He was present when his brother 
Kouha
 obtained his Djinn, 
Leraje
.
Country: Kou empire
Race: Human
Strengths:Kouen is the strongest general of the Kou Empire. He is the only person besides 
Sinbad
 and 
Hakuryuu Ren
, to capture more than one 
Dungeon
, capturing three. He has a strong supply of Magoi so much so that Kouen can switch between of his three djinns. Kouen is intelligent enough to know how to read and speak the 
Torran Language
. Something that was lost many years ago he knowns many of the anicent languages and many of the religious along with their beliefs. In battle he has come up with battle plans that easily ended war he is a very smart man and prides himself in  Kouen mastered swordsmanship when he was only nine years old. In the history of Kou he is known as one of the strongest swordsman in the history of the Kou empire. There is a story of Kouen going to battle with only his sword in war and slaying hundred man all by himself. Kouen is a marital arts master this is where his real strength is. The man can disarm a group of eight men by himself. While also being a master of Magoi manipulation he can take the energy into his body and use it to increase his marital art abilities a normal punch will be so much stronger and does so much more damage.
Weapon:Sword
Do you have any magic training?:No
If yes what type of magic?:No